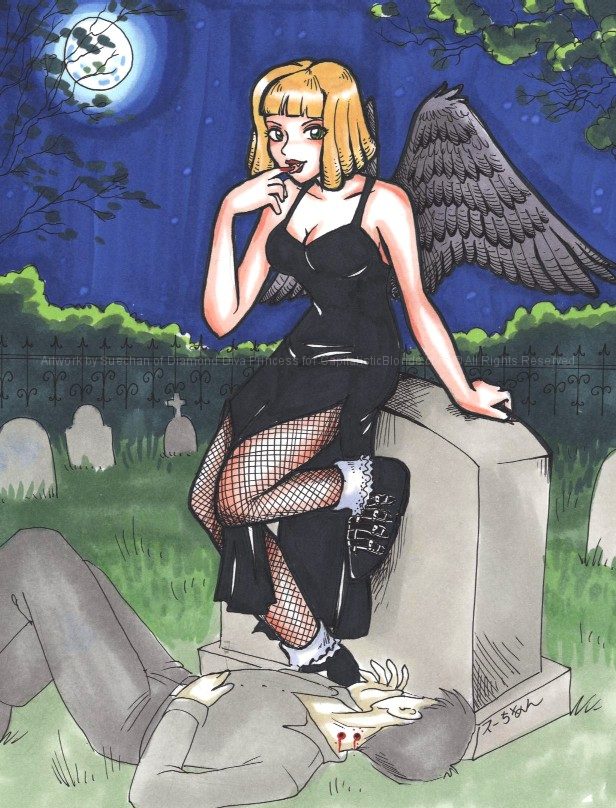 *Hypnotic Anime Pinup Drawing of ME above by artist Sue-Chan, All Rights Reserved.
When describing to artist Sue Chan the particulars of what I wanted this drawing of Me to contain, I said this:
"At My feet lies My helpless victim, a man, just a crumpled figure dressed in grey clothes, which you can tell is a person, but has no vivid detailing of any kind. After all, he is but one thing, and that is MY willing victim.."
~how TOTALLY perfect is that to explain your WEAKNESS for ME and the way in which I effortlessly SLAY you?? you are NOTHING more & NOTHING less than a wallet to FEED MY INSATIABLE EXQUISITE GREED!!
This drawing is based upon gorgeous photos of Me which were published in a 2 page magazine article about ME and featuring My pinup modeling, perhaps I will release them at some point so you can pay DEARLY to OOGLE them. I am REALLY wearing a long silk gown and black wings in the photos, simply EXQUISITE.
Indulge NOW in THE luxury of THE MONETARY VAMP, VAMPIRESS MONETAIRE! you cannot resist MY ALLURE.
VvvV FIndom VAMPIRESS INDOCTRINATION VvvV SUCCUMB to MY FANGS~
Craving to feel MY Poison Fangs deep within your jugular? Becoming MY hellhound ghoul requires DEDICATION & DEVOTION. To learn MORE about ME, Le Vampiress Monétaire and what it takes to be MINE, you may  contact Me with your plea for consideration.
BEGIN FEEDING MY GREED, MY WILLING VICTIM!!

Shop til you DROP @ THE Financial Domination Boutique, Platinum Glamour!



financial domination, money domme, blonde fetish, Goddess Worship, fur fetish, hypnodomme, financial slavery