December is the month of KISSYMAS
Celebrate GODDESS LYCIA and her Infamous Kissies
Here we are again! If you are new to Goddess Lycia's World, the entire month of December is a celebration of Kissymas. This is a time for you to extra-special serve, spoil and pamper your Findom Goddess.
The theme is basically Christmas and winter holiday stuff, but combined with my favorite fetish, the lipstick fetish, and my hightly sensitizing kissies that control your "circus animal!"
Serve me and please me to the VERY best of your ability at all times, like a good submissive. Make me happy, because I make your life better just by showing up!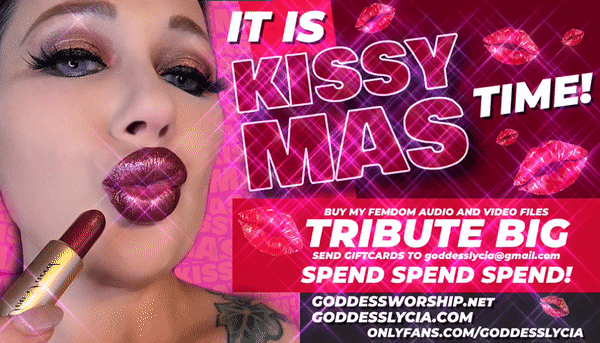 As a good boy, I am sure you want to know how to BEST serve me this Kissymas.
1. Join my OnlyFans and contribute AS MUCH AS YOU CAN to my boob job fundraising campaign! I talk about my boob job more in my Findom Boob Job post.
2. Write me a message on sextpather. I really like this platform. I think their messaging system is set up for a masterful mindfuck.I am very available to my NiteFlirt customers for findom and fetish chat, as well as for phone domination sessions.

I am very active on Twitter, even if I am just posting pictures I like.
3. I want tributes in cryptocurrency.
New Mesmerizing Promo Clip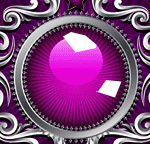 New Femdom Hypnosis Interview
Check out my latest interview on the topic of erotic hypnosis on Podopheleus' informative kinky website!
To please me further this Kissymass, visit my tribute page. You'll find a bunch of different ways to tribute. 
Buy all the Kissymas-themed files I made over the years. Also, snatch up any of my lipstick fetish clips that you don't already have. Especially lipstick fetish clips that involve kissies.  
Listen, you have a fetish for my kissies, whether or not you knew it. Maybe I used your foot fetish to give you a lipstick fetish which evolved into a kissy fetish. Maybe you already had a fetish for my kissies from the beginning.
Either way, we are celebrating me, my lips, the seductive power I have over you, and your relentless desire to be of service to me 💋