I have ACTUALLY updated The Devonite Temple 5 times last month – SHOCKING isn't it!?
There is much going on for those who commit themselves to MY training and live by MY CODE. I'm perfecting the hoops I have for you all to jump through going forward into this new year. Are you going to be jumping for me like a good puppy?
The latest updates sealed behind MY worship walls are as follows for January :
Gallery Update
Heaven Above (Foot Fetish / Toe Polish / Female Domination)
Found yourself in MY bedroom have you? I'm sure you won't be shocked to know this is the only view you will have. Looking up from the floor to your heaven above!
Bow to your foot fetish Queen!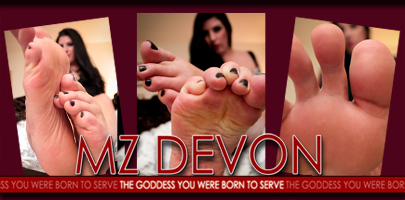 Want to obsess over my latest photo set immediately?
Go on, it's just 1 PTV to start.. doubt you'll be able to stop though! http://MzDevon.com/heavenabove 
Video Update
Barefoot Toe Tease POV (Foot Fetish / Barefoot / Sexy Soles / Long Hair / POV)
My feet near your screen is a LUXURY for foot fiends like you! So very lucky you are that I give you these treats to drip to.
Audio Update
Sissy Training Deluxe (Feminization / Sissy Training / Forced Bi)
You no longer have the right to think like a man sissy.
Wimper for Me sissy… dress in pink for Me sissy & have Me giggle as you prance around!
All you want is cuddles.. ALL I want is you with your pink lips wrapped around real man meat!
You will be MY good girl won't you?
(LENGTH – 5:19 minutes)
Assignment Updates
SHAME ART PROJECT (Humiliation / Slavery)
Degrade yourself with what you are most ashamed. Extra points for photo submissions!
GROW FOR GODDESS (SPH / Humiliation)
This is a simple task and you only need a 3 things.
Will I laugh or be impressed at the improvement?
Goddess is also available by calling directly at 1-855-MZDEVON

More