Your Goddess has been busy having the most amazing adventures off and on for the past 2 months camping up in the beautiful BC mountains. I get to indulge in the ocean outside my home during the week and then pamper my spirit on the weekends swimming under glaciers. Spoiled!
This summer I will be accepting phone sessions only when I am home Mon – Wed, possibly even a Thursday here and there on occasion. Tributes will always be your first priority when trying to gain my attention during this time, which will last until Oct. I have many guests flying in over the next few months, and I cannot wait to show them these majestic hidden gems!
No fun for you though! There's only work, work , WORK in your future!
My BIRTHDAY is June 19th!
While I'm lounging around on the warm sandy beach by the lake for the week,
you best make sure I come home to oooodles of surprises!
The latest updates sealed behind MY worship walls are as follows :
Video Update
Busty Goddess Foot Worship

Go on, I know you can't control your urges to lick your screen freak!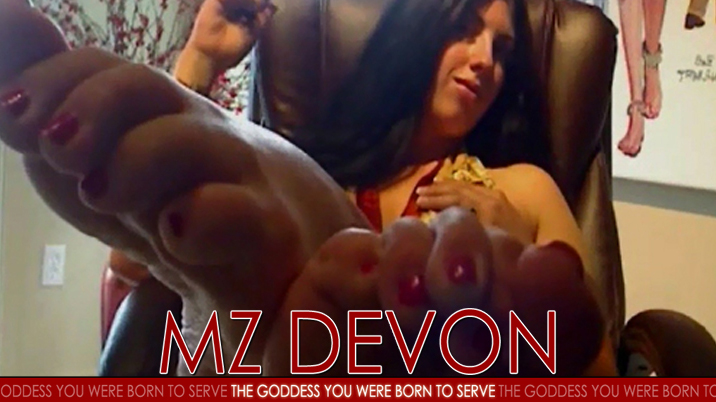 Gallery Update
I decided to sync my private Instagram account into The Devonite Temple.
The majority of photos from my IG acct will be deleted as they get posted so as time goes on, these images will only be available inside these walls of worship.
Audio Update
Emptied (Financial Domination / Submission / Ruined)

Each day you plan to be strong, to salvage what's left of your money. I also know that no matter how good your intentions are to yourself, I always win. Prove yourself worthy of my financial drain pig. Worship ME. Become seduced.
(LENGTH – 4:42 minutes)
Assignment Updates
SPREAD'EM WIDE!

(Humiliation / Edging / Slave Training)
Repetitive task. A fun edge & spread assignment sure to keep you feeling like a FOOL!
Surrender your body

(Edging / Goddess Worship)
Give your body to Goddess. Stare at your new confessions of slavery.
Goddess is also available by calling directly at 1-855-MZDEVON

More